Condition: New
Warranty: 1.5 years
Applicable Industries: Hotels, Garment Shops, Building Material Shops, Manufacturing Plant, Machinery Repair Shops, Food & Beverage Factory, Farms, Restaurant, Home Use, Retail, Food Shop, Printing Shops, Construction works , Energy & Mining, Food & Beverage Shops, Other, Advertising Company
Weight (KG): 1.574
Showroom Location: None
Video outgoing-inspection: Provided
Machinery Test Report: Provided
Marketing Type: New Product 2571
Warranty of core components: 1 Year
Core Components: Bearing
Material: S45C or GCr15, S45C or GCr15
Model Number: SF16 Linear shaft GCr15
Coatings: hard chrome plated
Thickness of Coating: 12um-20um
Length: customized
Shaft diameter: 3mm-80mm
Hardness: HRC55-60, HRC58-60
Precision: g6, h6, h7, f8 etc
Roughness: Within 1.4um
Straightness: Not exceed 5um of 1000mm
Packaging Details: 1. Individial plastic bag, paper box ,secure carton 2. As clients' requirement.
Specifications KETE Cylinder linear rail,Shaft, Piston rod,Round bar, stainless steel linear shaft, linear shaft
1. Material: S45C, Gcr15
2. Hardness greater than 60-62 degree and Pricision g6
3. Shaft diameter:3mm-150mm, Max length more than 6 meter
4. Induction hard and chrome plated –Rustproof
5. ISO9001:2008 quality certificate.
6. Sample Order is available;
7. 10 years experience in producing linear shaft;
8. Trading exporter–13 years export experience linear shaft
9. With Many Advanced Germany machine for linear shaft making;
10. Pay more attention to before-sale, in-sale, after -sales service;
11. Manufactory with large stocks–Cheap Price and Prompt delivery
12. Hardend shaft , Non-hardend shaft , Hollow shaft are all available and can be machined according to your drawing.
As a professional linear motion products manufacturer with many years expriences, we could offer many kinds of linear shaft and good quality linear shaft and We can modify the dimension and do some special linear shaft and machine work according our customer request.
Product description:

Product Name: Plain Linear Shaft
Model: SF3/SF4/SF5/SF6/ SF8/ SF10/ SF12/ SF13/ SF16/ SF20/ SF25/SF30/
SF35/ SF40/ SF45/SF50/ SF60/SF70/ SF80/SF100/SF120/SF150

Material: Carbon Steel S45C or Bearing Steel Gcr15
Hardness: HRC55 °- 60° Or HRC58 °- 62°
Roundness: Within 3.0μm
Straightness: Not exceed 5μm of 1000mm
Thinkness of Coating : 15μm–20μm
Surface Roughness : Within 1.4μm
Outer Diameter Tolerance: g6, h6, h7
Surface Hardening Thickness: 0.8-3.5mm
Note: we can offer both the solid shaft and the hollow one. The diameter of the hollow 1 is at least 12mm.however, we also can process the special shafts whose ends are stepped.
Five types of the shafts:
Plain linear shaft;
Stainless steel linear shaft
Linear shaft with chrome plated;
Hollow shaft with chrome plated;
Linear soft shaft with chrome plated;
We supply various kinds of these linear shaft for different models and sizes and Siniecrely hope that further discussions will result in further business to our mutaual advantage. Please do not hesitate to contact. We will offer the best price and service !!!
Name designation for the plain linear shaft:
Special linear shaft series:
KETE Linear Shaft Show
KETE Linear Shaft Data Sheet
KETE Hollow Shaft Data Sheet Feature:
Abrasion resistance, corrosion resistance, high-precision, high intensity and also 3 particular
features are as following:
1 Super high precision: shaft has been introduced advance technology from Japan, and has
stable performance;
2 Super-wide range of application and excellent durability;
3 Super-high ratio of Price/Performance.
Purpose:
Linear Bearing is widely used in auto transmission device, such as industrial robot, auto recorder, computer, precision printer, special air- cylinder, auto woodworking machine and so on. It has a longer life than general precision equipment due to its high-shiffness.
Our service:
1.Customizing is ok for us if you can offer the drawings,pictures or samples
2.On-line 24 hours servicing for you
3.Using environmental materials
4.Customer first and fast reation
5.High quality and guarantee
KETE Workshop
Full Stocks of Slide Blocks
Packaging & Shipping
Company InformationKETE Company Image Show
KETE Other Products

| | | | |
| --- | --- | --- | --- |
| DFU Ball screw | SFU Ball screw | Ball Screw Support Units | Nut Housing |
| Mini Linear Xihu (West Lake) Dis. | LM Linear Xihu (West Lake) Dis. | Linear Shaft | SBR Lindear Xihu (West Lake) Dis. |
| Needle Roller Bearing | CZPT LGD Linear Xihu (West Lake) Dis. | TBR Linear Xihu (West Lake) Dis. | Blocks & Linear bearing |
FAQ
Frequently Asked QuestionsQ: What's your (KETE) main products?A:
Cold rolled ball screws, ball screw support units, Linear CZPT rails, Linear motion ball slide bearing,
Cylinder rails, Linear shaft, Couplings, etc. lbs lbf ball spline
Q: When can I get the quotation?A:
We usually quote within 24 hours after we get your inquiry. If you are very urgent to get the price,
please call us or tell us in your email so that we will regard your inquiry priority.
Q: Can you do ball screw end machine processing?A:
Yes. We have a professional team having rich experience in end machine processing,
Please provide us the drawing with the tolerance, we will help you to make the ball screws depending
on the drawing.
Q: How can I get a sample to check your quality?A:
After price confirmation, sample order is available to check our quality.
Q: Have items 100% finished in stock?A:
Most items are all well finished in stock, but some items are newly machined according to your
requirements.
Q: Can I choose the sizes?A:
Yes, We have full size available for your to choose.
Q: What is the delivery time?A:
With in a week for sample; 15-25 days for mass production.
Q: What is the payment team?A:
T/T, L/C at sight, Western Union, PayPal, Money Gram, etc.
Q: Can I trust you?A:
Absolutely YES. We are 13 years "Alibaba" Golden supplier. CZPT brand belongs to our headquarters.
Q: May I visit your factory?A:
Sure, welcome any time. We can also pick you up at airport and station.
Thank you for visiting!!!
Shaft Collar
A shaft collar is a common machine component that provides mechanical support to shafts. It is found in motors and gearboxes and serves several important functions. Its design makes it an easy component to install. In addition to providing mechanical support to shafts, shaft collars can also serve as locating components and bearing faces.


Sizes
Shaft collars are complex components with several factors that determine their performance. Typical considerations include the style, materials used, bore size, and shaft geometry. Manufacturers typically have information on these factors on their websites. Users can also contact them for advice. These components are available in different sizes and types.
Shaft collars are available in a wide range of sizes, from 1/8 inch to six inches. They can also be re-bored if necessary. There are two main types of shaft collars. The basic one uses set screws, which may mar the shaft. The other type features a clamp screw and a hinge on one side. This eliminates the risk of losing screws.
The most common types of shaft collars are made from steel or aluminum. Plastic shaft collars are lightweight and inexpensive, but have reduced holding power. Steel shaft collars are more durable and hold their shape without bending. They also tend to be corrosion resistant. The steel grades used can have a big impact on their performance. For example, the 12L14 alloy is easier to machine, but does not do well in welding applications. Stainless steel shaft collars offer enhanced corrosion resistance, but reduced holding power. They are most commonly made from 304 stainless steel.
Shaft collars are an integral part of many mechanical systems. They are used to mount shafts onto flat surfaces and hold mechanical components in place. These accessories are available in a wide range of sizes and styles. Depending on the application, a shaft collar can be made to fit virtually any shaft.
The material used for shaft collars is also an important factor. The material of the shaft collar can make a big difference in the performance of the collar. The screw can be either flat or hex. The material will also determine the holding power. A screw with a hardened center will provide better holding power.
Another factor affecting the holding power of shaft collars is its surface treatment. The most common types are steel, black oxide, and zinc-plated. The latter is beneficial as it reduces the friction coefficient and enhances the holding power. Zinc-plated collars are better corrosion resistant than black oxide. However, the black oxide treatment is more effective because it prevents slippage.
Construction
Shaft collar construction involves the construction of a collar around an underground shaft. This structure consists of steel casing and concrete that extends below the surface of the ground. The concrete may be constructed using conventional or specialty cements. It may also contain accelerators and other additives to improve its holding strength. The concrete may also contain heavyweight or lightweight aggregates for optimal properties.
There are two main types of shaft collars. The double split collar is the most common type. It has a split design in the middle and is fastened using two allen head cap screws on each side. It has greater holding power than a solid collar, and the two-piece design makes it easier to install and replace. In addition, double split collars don't require disassembling the entire shaft and its components.
There are many factors to consider when selecting a shaft collar. The material, holding power, and surface treatment of the shaft collar will affect its ability to withstand the load without slipping. These factors must match the specifications of the application in order to maximize its safety. A guide can help you choose the most appropriate shaft collar for your needs. The holding power of a shaft collar depends on the material used for construction and the screw size.
Shaft collars are used for a variety of applications that require a secure grip on mechanical components. They can be used on shafts, tubes, piping, and even flat surfaces. Only the highest quality collars are approved for use in industrial settings. These collars help ensure proper alignment of mechanical components and prevent any unnecessary movement. There are three different types of shaft collars. One type is a two-piece collar that is held together by two socket head screws.
Shaft collars may include an extended concrete pad at the surface. This concrete pad can support surface equipment and piping support assemblies. The shaft collar extends below temporary bracing material and within the retainment wall. The extended portion of the collar is then extended into the competent rock. From there, the collar transitions to a shaft lining assembly.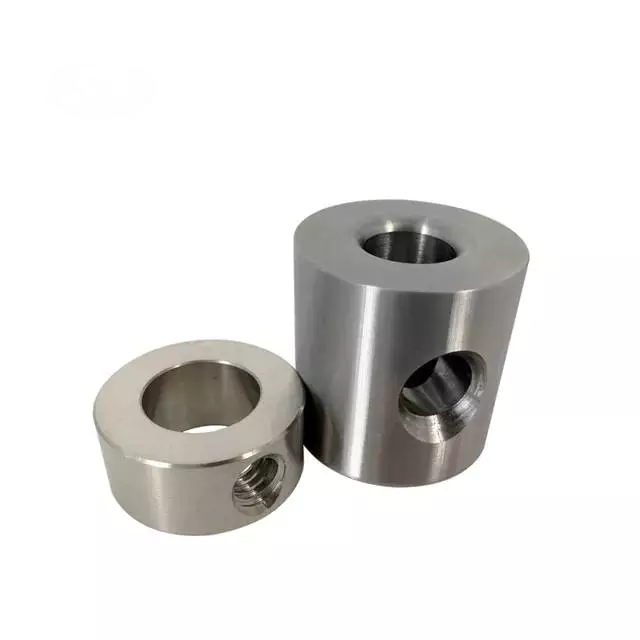 Functions
A shaft collar is a simple device that plays a critical role in a wide variety of industrial applications. Its primary functions are to hold components in place, locate components on the shaft, and form an attachment between a shaft and another component. In designing a shaft collar, a designer needs to consider several factors, including the material, bore size, and geometry of the shaft. It is also important to consider the specific requirements of the system.
Threaded collars are superior to smooth-bore collars in many ways. Threaded collars are more resistant to axial loads than smooth-bore collars, which rely on friction. Because the collar and shaft are threaded, they are practically impossible to move axially without breaking the shaft.
There are many types of shaft collars, each with their own unique properties. Each collar has different applications, and its performance must match the needs of the application. For many applications, holding power is paramount, while other performance factors include weldability, inertia, conductivity, corrosion resistance, and precision of collar-face relative to the bore.
While shaft collars may exert some holding force, they also exert other forces on the shaft. For example, they are ideal for splitting hubs, where they act as interfaces between various components. In addition, their close tolerances allow them to exert minimal force on the hub. This allows them to provide increased holding power while minimizing the force needed to close the hub.
Despite their simplicity, the shaft collar plays a crucial role in machine design. They hold components in place and provide necessary positioning for power transmission. Additionally, they are used as spacers in motor assemblies. And, they can also act as mechanical stops, limiting the movement of the shaft. You can find them in virtually any type of machinery.
Another type of shaft collar is the threaded collar, which can be axially or radially attached to the shaft. Its design has an internal thread that helps to precisely position it along the shaft. Internal threads also offer enhanced support for high axial loads. Internal threads also act as a positive mechanical stop.

Applications
Shaft collars are used in a variety of industrial applications. They serve as accurate stops and easy-to-adjust spacers. They can be used on glass, thin-wall tubing, and plastic. Other applications include optical measuring instruments and positioning systems for MRI machines. These collars are available in different sizes, materials, and styles.
The material used for shaft collars can have a significant impact on their performance. A collar's holding power is also affected by the strength of its screw. Generally, a collar manufacturer will provide a screw that is compatible with the application. However, in some cases, it is necessary to use a nonstandard screw.
The clamp-style collar is reliable under constant loads, but it may need extra support when shock loads are present. In these situations, a small mass is impacted, and high forces are created. A positive stop can help a clamp-style collar stay in place during such shock loads. Alternatively, a collar undercut on a shaft can provide positive stops in both axial directions.
There are many different shaft collar designs and styles. Choose the right one for your application by considering your specifications. Different styles have different purposes, so consider the type and material that is right for your application. Some manufacturers offer a variety of different styles to choose from. You can visit their website or call their customer service representatives for assistance. This way, you can choose the best shaft collar for your specific needs. These collars are a very important part of many mechanical systems.
Clamp-style collars are an excellent choice when axial adjustment along the shaft is required frequently. These collars are easy to install and remove and do not mar the shaft. In addition, they provide excellent clamping force and impressive holding power. Quick-clamp collars are also a great choice for light-duty applications. They allow for fast and easy adjustment and are particularly useful in packaging and printing industries.
Shaft collars are composed of two components: a central bore and a second component. The first component is preferably made of resilient elastomeric material. The second component is made of a plastic material and has a relative stiffness that helps the shaft collar slide on a shaft without causing too much stress.




editor by czh